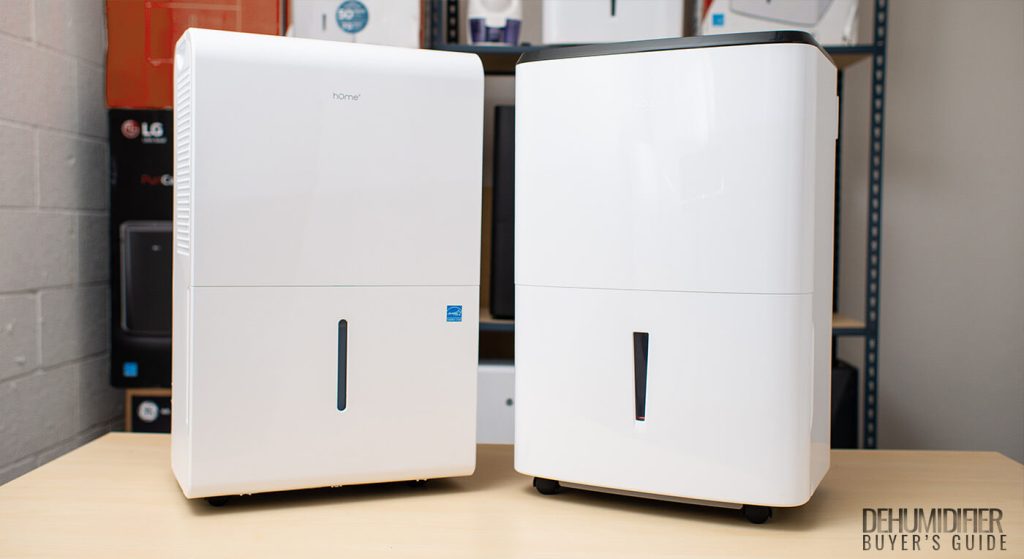 Last Updated: December 9th 2021
In 2014 we tested ten different high capacity dehumidifiers. A few years ago we tested six more. More recently, we tested an additional eleven units. So, as of the time of this updated 50 pint (70 pint 2012 DOE) dehumidifier review guide we've tested and reviewed twenty-seven different high capacity dehumidifiers.
Each dehumidifier was bought either online or at a local brick and mortar store. We didn't receive any "review units" from any manufacturer. We also haven't received any compensation from any manufacturers in writing our reviews. Rest assured, that each and one of our reviews are 100% unbiased, written with the single aim of helping you, the consumer, make the best possible decision in buying a large capacity 50 pint dehumidifier for your home or place of business.
Do You Need Pump Drainage?
Before we get started with our recommendations, we need to cover pump drainage.
Collected condensate (water) can be removed from a dehumidifier in three different ways:
Empty and replace the water collection bucket – what most consumers do
Drain the dehumidifier using gravity drainage – a standard garden hose is connected to the dehumidifier and the dehumidifier is drained using gravity
Drain the dehumidifier using pump drainage – a pump pushes the collected condensate through a drain hose
It's important that you know that a pump is only necessary if you're looking to drain the dehumidifier to a location above it or far away from it (more than a few ft.). If you can drain to a location below it or close to it (only a few ft.) then gravity drainage will work just fine.
All 27 of the 50 pint units we tested have a water tank that can be emptied and replaced. All 27 can easily be drained using gravity drainage using no extra purchased parts except for a garden hose. And, you guessed it, all 27 units can be drained using pump drainage.
But, there's something special about 5 of these 27 units. On 5 of them, no extra parts or accessories are required to facilitate pump drainage. These are what we refer to as built-in pump dehumidifiers.
To say it another way, 5 of the 27 50 pint dehumidifiers we've tested come equipped with a built-in pump – the pump is built into the dehumidifier and a drainage hose is included. To facilitate pump drainage with the other 22 50 pint units we tested you'll need to buy a condensate pump and hosing separately.
Our Recommendation – Go With A Non-Built-In Pump Dehumidifier
Generally speaking, the best rated built-in pump dehumidifiers are not the best rated dehumidifiers overall. Every one of the built-in pump dehumidifiers we've tested has one or several major problems that prevents us from recommending it over any top rated non-built-in pump dehumidifier.
In addition, built-in pumps have a strong tendency to fail. A reliable stand-alone condensate pump costs in the neighborhood of $40. We think it's safe to assume that dehumidifier manufacturers are spending nowhere close to as much on their built-in pumps.
How can we make this assumption? Just look at the failure rate of built-in pumps. We've surveyed countless consumer reviews for built-in pump units and we see time and time again how the unit's built-in pump failed much earlier than the dehumidifier itself. Early pump failure is a known issue for built-in pump dehumidifiers.
With all of this in mind, our recommendation is, should you require pump drainage, that you buy a condensate pump and hosing separately. With a recommended non-built-in pump unit you'll be getting a highly reliable durable dehumidifier at a lower price than a comparable built-in pump dehumidifier with similar features and functionality (outside of the built-in pump of course). With the money you save on buying a non-built-in pump dehumidifier you can easily buy a reliable condensate pump and hosing separately. This is our recommendation at this time.
Best Rated 50 Pint Dehumidifiers – Overall Rankings
(click on the model for our review and buying options)
Our #1 recommended dehumidifier for 2023 is the Frigidaire FFAD5033W1. This model replaces the previously top rated Frigidaire FFAD7033R1 in our rankings. As a more budget friendly second option, we recommend the hOmeLabs HME020031N. The hOmeLabs has many of the same features and much of the same functionality as the Frigidaire, but it's more inexpensive. The FFAD5033W1 will remove moisture faster and it's definitely a more durable, reliable dehumidifier. However, if you're on a limited budget then the hOmeLabs is by no means a terrible compromise.
Rounding out the top 3 is the Black+Decker BDT50WTB. This dehumidifier performed very well in our moisture removal tests and is a good all-around alternative if the top 2 units are out of stock and you need a dehumidifier today.