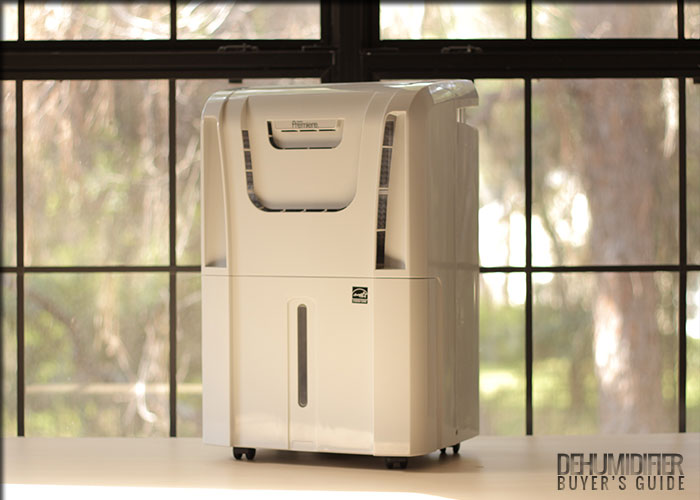 Pros
Most rapid moisture removal in size class
Most accurate hygrometer in size class
Most energy efficient in size class (tied with 4 other units)
2 year warranty (vs industry standard 1 year)
High quality control panel and LED displays
Separate LED temperature display
Hose included for gravity drainage
Cons
No continuous mode
Less than stellar consumer reviews
Not very quiet
Not the best value
Included With Your Purchase
Dehumidifier
Instruction manual
7 ft corrugated plastic drain hose
| | |
| --- | --- |
| Energy Efficiency | 5.0 |
| Noise Output | 3.0 |
| Moisture Removal | 5.0 |
| Hygrometer Accuracy | 5.0 |
| Durability | 3.0 |
| Adjustability | 3.0 |
| Versatility | 4.5 |
| Extra Features | 5.0 |
| Ease of Use | 4.0 |
| Portability | 3.0 |
| Warranty | 5.0 |
| Value | 2.0 |
| Editor's Score | 4.4 |
Score is out of 5 possible points.
Quick Review Summary
The Danby DDR70A2GP is one of the more expensive non-built-in pump 70 pint dehumidifiers we tested. What follows is a somewhat mixed review, although with many more positive aspects to this dehumidifier to point out than negatives. While the Danby didn't perform very well in a few less important categories (portability, adjustability), it did perform very well in many important categories (energy efficiency, moisture removal rate, and hygrometer accuracy). As is true for any other dehumidifier we recommend, whether you find the Danby to be a viable option for your moisture problem will depend on what is important to you. As you'll see in our full review below, if you value portability or you need a dehumidifier that is generally quiet then there are better options for you. If on the other hand you just want a unit that's going to remove moisture as quickly as possible and do so efficiently, the Danby is an excellent choice and comes highly recommended.
The Danby (along with the ArcticAire) also has the best warranty of any 70 pint dehumidifier we tested and reviewed. It comes with a full 2 year warranty on the unit itself and an additional 6 months (for a total of 2.5 years) warranty on plastic parts. Your initial purchase price may be a bit higher with the Danby but this extra cost may be money well spent if your dehumidifier ends up being defective or breaks within the first 2 years of ownership. Compare the ArcticAire and Danby's 2 year warranty to the industry standard 1 year warranty that will come with your purchase of any other 70 pint dehumidifier currently on the market. Its outstanding warranty is perhaps the Danby's greatest asset. We strongly recommend this unit to any potential buyer that values warranty coverage as a top priority in making their purchase decision.
Note: In 2014 we reviewed ten different high capacity dehumidifiers. In the last several years we've reviewed many more. This particular review was written in 2014, thus all comparisons within this review were made comparing this dehumidifier to nine other high capacity dehumidifiers and the top rated high capacity dehumidifier at the time, the Frigidaire FAD704DWD. All new reviews compare all of the most recent dehumidifiers we've tested and reference the current top rated dehumidifier. Also note that this dehumidifier, while a 70 pint unit at the time of its release, would be a 50 pint unit by today's pints/day standards.
Performance Test Results
Energy Efficiency
The Danby DDR70A2GP is one of the most energy efficient 70 pint dehumidifiers we tested. It was part of a four-way tie for first place in this category. The measured power usage at approximately 50% RH was 590 watts. In an extreme high humidity setting (above 90% RH) we measured its power usage at 750 watts.
For any real world application the unit will draw between about 550 and 750 watts. For any mild humidity problem you can expect a power draw closer to 550 watts. Only in severe cases will the unit actually draw 700+ watts of power.
So how did the Danby perform compared to the other units we tested? As we mentioned above, it was in a four-way tie for first place at 590 watts. It drew 65 watts less than the most power hungry unit (the Delonghi DD70PE) which we measured at 655 watts. A comparable unit at this price point is the Frigidaire FAD704DWD (approx. $225) which we measured at 632 watts at 50% RH.
Noise Output
The Danby was one of the loudest 70 pint units we tested. If your primary concern is noise output and you need to operate the dehumidifier in a living space where you're going to be spending a lot of time we definitely recommend a different unit (such as the Frigidaire, for instance). The Danby got 9th place out of ten 70 pint dehumidifiers in the control panel noise output test. It does exhaust out of the top of the unit so it was at a disadvantage in this particular test (read more here), but its poor performance here is still notable.
In the real world 10 foot test the Danby performed a little better. It was the 6th loudest on high fan speed and 5th loudest on low fan speed.
The bottom line here is that the Danby was one of the louder units we tested. It was notable even without using a sound meter to measure the actual dBs. The reason for this noise output – it's moving a lot more air (higher CFM) compared to most of its 70 pint competition. As you'll see in when we discuss its performance in our moisture removal tests below, the benefit of its high CFM and resultant greater noise output is that the unit removes moisture at a much greater rate than all of the more quiet units we tested. If quick moisture removal is a priority for you then the Danby is an excellent choice. If you need a quiet dehumidifier for a mild humidity problem then we simply cannot recommend this particular model.
Moisture Removal
Definitely the strongest selling point for the Danby – this model was the second fastest in both of our moisture removal tests. It was the fastest among dehumidifiers that we can actually recommend as solid buys (the top performing Haier has major reliability issues).
As we mentioned above, the Danby's well above average fan speed is a big reason why this unit is louder than most of the units we tested but it also greatly contributes to how quickly the unit can remove moisture from the air. You're buying a dehumidifier because you have a moisture problem and the Danby does dehumidification really well, as evidenced by its exemplary performance in our moisture removal tests.
Hygrometer Accuracy
The Danby had the most accurate hygrometer of all the 70 pint units we tested. Its readings were never worse than within 1% of the actual room humidity. In fact, its readings were pretty much on the dot for the majority of our hygrometer accuracy test time.
Included Features, Functionality, Build Quality, Warranties, and Value
Durability (Build Quality)
General Impressions
While we tested the Danby we noticed a distinct difference between the build quality of this unit compared to some of the more inexpensive units we tested. The Danby appears, at least superficially, to be a dehumidifier with above average design and workmanship, which bodes well for its durability and longevity.
Brace
The Danby's water tank does not have a brace. Still, we found its tank to be made of high quality durable and resilient plastic materials – above average quality especially compared to some of the more inexpensive units we tested (such as the Keystone).
Weight
The Danby wasn't the lightest unit we tested and it also wasn't the heaviest. We can't really deduce anything about the quality of the parts used from its weight.
Consumer Feedback
The Danby has four 1 and 2 star reviews out of 37 consumer reviews posted as of the time of this writing. Its predecessor, the A1GP received nineteen 1 and 2 star reviews out of 137 posted with the earliest review posted in April 2012.
The current model has slightly more than 10% negative reviews while its predecessor has close to 15% negative reviews. We consider any 1 or 2 star review to be negative and indicative of a failed unit or some type of major defect.
Compared to other dehumidifiers in the 70 pint size class the Danby's consumer feedback is slightly below average.
Overall Category Score
As we mentioned above, the Danby appeared to be a very well constructed durable unit. Its higher rate of negative reviews does indicate that it may not be as durable as we thought it was. Keep in mind that we only tested these units for 30 days. We really weight consumer opinion heavily in this category just because most reviews, especially negative reviews (cases where the unit fails) are written after several months and even years of use. We have to give the Danby a slightly below average 3/5 for durability.
Adjustability
Humidistat
The Danby's humidistat can be adjusted in 5% increments, which is the industry standard.
Timer
The DDR70A2GP's timer can only be set in one hour increments up to 24 hours. Many of the 70 pint units we tested, including less expensive models (the Keystone, for instance) allowed for the timer to be set in half hour increments up to 10 hours and then one hour increments up to 24 hours. The Danby limits this setting to one hour increments through 24 hours. For the vast majority of consumers this isn't really going to be a negative at all. However, if you really need a more precise timer then you might want to look at a different model. We note here that because having a timer that can only be adjusted in half hour increments won't affect the majority of consumers we won't deduct points in this category for the Danby's slightly less adjustable timer.
Number of Fan Speeds
The Danby has two fan speeds like every other 70 pint dehumidifier we tested except the GE ADLE70LR (it has low, medium, and high fan speeds).
Extra Modes
A surprisingly weak point for the Danby – the unit has no continuous mode and no auto mode. Continuous mode has the dehumidifier running continuously with no set desired humidity level. The unit simply runs continuously until it's turned off. The much less helpful auto mode automatically adjusts fan speed according to how much the ambient air's humidity differs from the desired humidity level. If you don't need a continuous or auto mode then you shouldn't let the Danby's lack of these modes affect your purchase decision.
All other things being equal, we would definitely recommend a dehumidifier with a continuous mode over one that doesn't. However, continuous mode is what we consider to be a nice feature to have. It's far from essential.
Overall Category Score
The Danby has industry standard humidistat adjustability and less than average timer adjustability. These two subcategories won't affect its score negatively, however. What will have a negative impact on the Danby's adjustability score is its lack of extra modes, most notably its lack of a continuous mode. Again, we have to give the Danby a slightly below average 3/5 in this category.
Versatility
Set Humidity Range
Versatility is another category in which we see the Danby perform well above average compared to its 70 pint competition. The set humidity range is an above average 30-90%. This means that you can set the Danby to a desired humidity level as low as 30%! While we don't recommend room humidity below 35%, having the option to set the desired humidity level down to as low as 30% makes the Danby much more versatile for unique applications. Being able to set the humidity level this low may also explain why the Danby lacks a continuous mode. In large rooms the unit will essentially have to run continuously to maintain such a low humidity level.
Being able to set the humidity level to as high as 90% is much less beneficial as you most likely will never want to set the unit to this high of a desired humidity level.
Operating Temperature
The Danby has a slightly below average operating temperature range. The manufacturer recommends operating temperatures between 42.8° and 95° Fahrenheit for "maximum efficiency". Most of the units we tested had recommended operating temperatures that ranged from as low as 41° F up to as high as 95 – 96° F. While the difference at the lower end of the range is less than 2° F it still is notable.
Gravity Drain
Depending on how you're going to use your dehumidifier the DDRA2GP will score either very high in this category for you, or will score only average. Unlike some of the other 70 pint units we tested, the Danby doesn't just have a simple threaded drain port for you to attach a garden hose for gravity drainage. Included with the dehumidifier is a seven foot flexible corrugated plastic hose that fits through an adapter on the back of the unit.
If you're going to be draining the unit less than seven feet from its location then the included hose and its easy installation is a major selling point for the Danby compared to those units that don't include a hose with adapter. If, however, you need to drain the unit further than seven feet from its location, you will still need to attach a standard garden hose to the unit and the included hose is no longer a major plus for the Danby.
We have to say that even though the included plastic hose wasn't the best quality, it does serve its purpose well and it really is convenient not having to attach a garden hose to drain the unit. You may not even own a garden hose so having to purchase one separately just to drain the dehumidifier could add to your cost if you're looking at a less expensive model that does not include a hose (such as the Keystone).
Built-in Pump
The Danby does not include a built-in pump which is disappointing at its price point. You will need to purchase a condensate pump separately (and a hose if you don't have one) if you need to drain the unit to a location at a higher elevation than the dehumidifier (a sink, for instance).
Overall Category Score
Being able to set the Danby to dehumidify down to 30% is a major positive. The included drain hose is also a major positive, but only applies to those consumers who are going to drain the unit less than seven feet away from its location. The slightly below average operating temperature slightly brings down its score but the Danby still earns a well above average 4.5/5 in this category.
Extra Features
Temperature Display
The Danby starts off strong in this category – the DDRA2GP features a separate LED display that show the ambient air temperature. The unit even has a button that lets you toggle between showing the temperature in degrees Celsius or Fahrenheit.
Defrost Mode
The unit does feature a defrost mode. At lower temperatures frost may accumulate on the unit's evaporator coils. With defrost mode activated the dehumidifier's compressor will shut off and the fans will continue to run to melt the frost on the coils. This is definitely a recommended feature for low temperature applications and makes the Danby a recommended unit if you live in a region with a colder climate.
Check Filter Light
The Danby is feature rich but strangely lacks a check filter light. Most of the units we tested have a check filter light that turns on after a certain number of hours (250 hours in most cases) of operation to let you know to remove the filter and clean it. You will need to keep track of how long the unit is operating and check the filter more often with the Danby because it lacks this handy indicator light.
Overall Category Score
We really value the addition of a temperature display on this unit. The defrost mode also contributes positively to the Danby's score in this category. While the lack of a check filter light is an inconvenience we can't really justify taking off any points for its absence. The Danby gets a perfect 5/5 for its extra features.
Ease of Use
LED Display Clarity
The Danby has a very clear and bright LED display. Its clarity stood in stark contrast to those LED displays found on some of the more inexpensive units we tested. A+
Setup Difficulty
The desired humidity level, fan speed, timer, etc. was easy to set on the Danby. We have no complaints.
Filter Removal Difficulty
Bottom-slide out filter removal – you will need to remove the water tank to remove the filter. Top and side slide out filters are easier to remove but you won't be removing the filter often so we can't really deduct points for the Danby's standard bottom-slide out filter.
Manual Clarity
The Danby's manual was clear, concise and easy to follow – an average manual.
Water Tank Size
While not as small as some of the smaller water tanks (10.4 pints for the Keystone) we've seen, the Danby's 14.2 pint tank isn't quite as large as we would like. Compare its 14.2 pint capacity to the 16.3 pint capacity of the Frigidaire. You'll need to remove and empty the water tank more frequently on the Danby, not only because of the smaller tank size, but also because it removes moisture more quickly than comparable units. Of course, employing gravity drainage solves this issue completely and if you're dealing with a severe humidity issue we highly recommend that you use the gravity drain instead of constantly having to empty the unit's water tank.
Overall Category Score
The DDR70A2GP has an above average LED display, features average setup difficulty, filter removal difficulty, and manual clarity. We have to deduct from its category score for its slightly small water tank. The Danby earns a respectable 4/5 for ease of use.
Aesthetics
The Danby features a glossy grey finish but its most notable aesthetic feature is definitely its front grille. Not only do we think it looks good but this design also allows for superior airflow compared to most other 70 pint units we tested. The grille has massive gaps to allow more air to be pulled onto the unit's evaporator coils more quickly. We see the payoff of this design choice in the Danby's excellent performance in our moisture removal test as we'll discuss later in the review.
Portability
Weight
The Danby was one of the lighter 70 pint units we tested, weighing 43.4 lb. 40+ lb is still quite heavy, however. You should be aware that moving any large capacity dehumidifier, including this one, is not a simple task due to the weight of these units. The fact that large capacity dehumidifiers are as heavy as they are highlights the importance of quality handles and casters for picking up the dehumidifier or moving it around on a flat surface.
Handles
The Danby does not have a top extendable handle. Like seven other 70 pint units we tested it only has side pocket handles to hold onto should you need to pick up the unit and move it. As we've highlighted in some of our other reviews, we found those units with top extendable handles much easier to move around. We definitely understand why the majority of manufacturers might think that it's unwise to implement a top handle. Dehumidifiers (especially the 70 pint units) are very heavy and a top handle can easily be perceived to be much more likely to break than side pocket handles like those on this Danby. Still, with quality parts and proper implementation a well manufactured top extendable handle can be durable and last the lifetime of the dehumidifier. We definitely didn't feel like it was prone to break on those units we tested that did have a top handle (the Frigidaire and GE). This was due to the fact that heavy plastic pieces were used to make the top handle on those units.
The Danby loses points in this subcategory because it lacks a top extendable handle.
Cord Storage
The Danby also does not offer any cord storage. When moving the unit around during our testing we found the power cord a hassle to deal with as it was constantly getting caught in other objects and generally made the unit more difficult to store. Of course, if you plan on placing your dehumidifier in the same location for the duration of its lifetime, and if you don't plan on using the unit seasonally and storing it in the winter/summer then cord storage or the lack of it in this case should not affect your purchase decision.
Caster Quality
The Danby has standard quality casters. We didn't have any trouble moving the unit on carpet or tile.
Overall Category Score
As far as positives go the Danby isn't as heavy as some of the heaviest units we tested (the 70 pint Friedrich weighs in at 47 pounds, for example). Its casters are also good quality – we didn't have trouble moving it around on its casters like we did on some other units. The lack of a top extendable handle and cord storage are definite negatives and in this case outweigh the positives as far as portability is concerned. We give the Danby a slightly below average 3/5 in this category.
Warranty (Manufacturer's)
The Danby has a full 2 year warranty on parts and a 30 month warranty on "plastic parts". Don't ask us why there's an extra 6 months on the warranty for "plastic parts". Still, the 2 year warranty is impressive as all other 70 pint units we tested only come with a 1 year warranty on all parts and a 5 year warranty on the sealed system (compressor, condenser, etc.) only. The extra year on the warranty is another strong selling point for the Danby.
Value
The Danby is one of the more expensive 70 pint dehumidifiers on the market that don't come equipped with a built-in pump. Its street price normally varies between about $240 and $250.
Final Thoughts
You're probably wondering how this Danby unit compares to more inexpensive units, most notably the Keystone and the Frigidaire. First of all, we have to say that the Danby screamed quality as we unboxed it. Its control panel is very high quality and far superior to what you'll have with the Keystone and the Frigidaire. Its build quality at least appears also to far exceed that of the Keystone and is at the very least on par if not a little bit better than the Frigidaire. The Danby also includes a drain hose which is a nice addition and may make up for the price difference if you're going to use gravity drainage and will need to buy a hose to drain the dehumidifier. It's more energy efficient than the Frigidaire and as energy efficient as the Keystone. It removes moisture more quickly than the two other units and it can be set to a lower desired humidity level (30% compared to 35%).
On the other hand, the Danby is much less quiet than both the Keystone and the Frigidaire. Its consumer reviews are a little bit worse than the Frigidaire's and much worse than the Keystone's. It's also much less portable than the other two units.
What's the bottom line?
First, if rapid moisture removal is your primary concern then we highly recommend the Danby. As we mentioned above, it has considerably greater airflow and our moisture removal test was definitive in showing that this unit outperforms all other 70 pint units in removing moisture quickly. Second, the DDRA2GP has a superior warranty compared to its competition. If you're concerned about any dehumidifier you may be thinking of buying breaking down, the extra year on the Danby's warranty more than warrants its higher price tag.