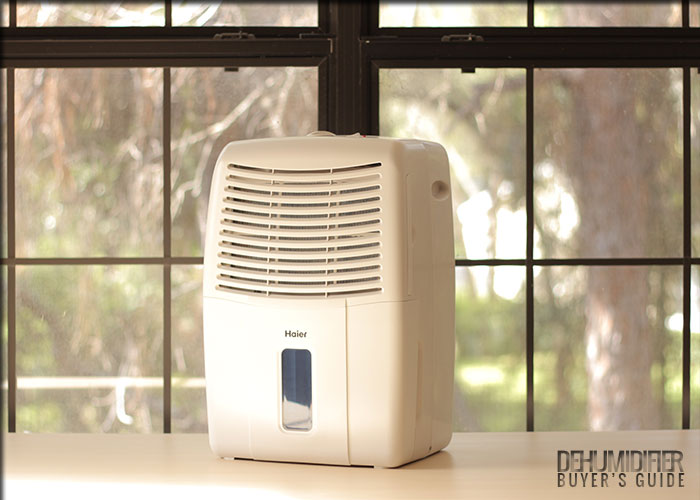 Pros
Very light and small – excellent portability
Side air filter access
Easy to find in local retail stores
Cons
You'll need to install the casters on this unit
Mechanical control panel – you'll need to turn a knob to "set the desired humidity level"
No extra features such as continuous/auto mode, defrost mode, etc.
Terrible performance in our moisture removal tests
Included With Your Purchase
Dehumidifier
Instruction manual
Casters are included but packaged separately
| | |
| --- | --- |
| Energy Efficiency | 2.0 |
| Noise Output | 3.5 |
| Moisture Removal | 2.0 |
| Hygrometer Accuracy | 2.0 |
| Durability | 2.0 |
| Adjustability | 2.0 |
| Versatility | 2.0 |
| Extra Features | 2.0 |
| Ease of Use | 5.0 |
| Portability | 4.5 |
| Warranty | 3.5 |
| Value | 4.0 |
| Editor's Score | 3.2 |
Score is out of 5 possible points.
Quick Review Summary
The Haier DM32M-L is technically a 32 pint dehumidifier, even though we group it with other 30 pint dehumidifiers. However, as you'll see in the appropriate section below, this extra 2 pints of claimed capacity doesn't result in a higher moisture removal rate as you might expect. This particular model has many other faults as well, as we'll cover in detail in the review below.
Note: This particular review was written several years ago, thus all comparisons within this review are made comparing this dehumidifier to the other relevant low capacity dehumidifiers at the time of its release, most of which are now discontinued. Also note that this dehumidifier, while a 32 pint unit at the time of its release, would be a sub-25 pint unit by today's pints/day standards.
Performance Test Results
Energy Efficiency
The DM32M is rated by the manufacturer to draw 465 watts of power. Compare this rating with a manufacturer rating of 405 watts for the GE.
Our real world testing confirmed this discrepancy in energy efficiency as the Haier drew 404 watts of power at 50% relative humidity while the GE drew only 356 watts of power in the same test and under the same conditions. The Haier was the least energy efficient 30 pint dehumidifier we tested.
Noise Output
The Haier was also less quiet than the GE. It was measured at 56.1 dB on high fan speed at 10 ft while the GE was measured at 54.8 db under the same conditions. This unit was also much louder than most 50 and 70 pint units we tested. Most 50 pint units we tested were measured at under 52 db and most of the quietest 70 pint units we tested were measured at just over 50 dB under the same conditions, also on high fan speed and also at 10 ft.
Moisture Removal
The DM32M performed miserably in both of our moisture removal tests. Most egregious, was its abysmal performance in our 90-40% test, in which it took over 50 minutes to dehumidify our test space. It took less than 30 minutes for the 35 pint Hisense to dehumidify the same space. It took less than 10 minutes for some of the 70 pint units we tested to dehumidify the same space under the same conditions. We emphatically advise against purchasing this unit if you want to dehumidify a living space below 50% relative humidity.
Although this unit failed miserably at dehumidifying past 50%, it did put up a fight when dehumidifying down to 50%. It was the slowest of the three 30 pint units we tested in our 80-50% test but not by nearly as wide of a margin. The Haier's performance is acceptable should your require only 50% relative humidity.
Hygrometer Accuracy
We could not determine this unit's hygrometer accuracy because it doesn't have a digital display showing a humidity reading. As we explain in the feature summary section above, you only have a control knob to adjust the desired humidity level. There is no display that shows the desired humidity level or a reading for the ambient air's current humidity.
Durability, Features, And Value
Durability (Consumer Feedback)
We couldn't find any consumer reviews for this particular model online. What we did find were reviews for a similar model, the DM30EJ-T, which did receive a reasonable number of reviews. Unfortunately, of the 15 reviews it has received, 7 are 1 and 2 star ratings. Taking into account our analysis of other Haier units, it's only reasonable for us to make the claim that consumer feedback for most Haier dehumidifiers is overwhelmingly negative.
Feature Summary
The DM32M lacks many of the features and functionality found on the Haier DE65EM and most larger capacity dehumidifiers. Because of this you'll notice quite a few differences between this unit and most other units we tested as we continue through this review. The first and foremost difference you'll notice is this unit's control panel. The DM32M has a knob that you turn to set the desired humidity level. There are no humidity percentage levels but rather you turn the knob from "MIN" to "MAX" according to how hard you want the dehumidifier to work to dehumidify any particular space. Note that how you set the desired humidity level on this unit is much different than most other units we tested, which allow you to set a precise humidity level in 5% or 2% increments using a digital LED display.
We were able to achieve 40% relative humidity in our test space using this dehumidifier, however it took over 50 minutes to do so. Compare this time to the 9 or 10 minutes it took for many of the 70 pint units and around 30 minutes for the other 30 pint units we tested.
This unit also lacks a myriad of features and modes found on other units such as a continuous mode, defrost mode, temperature display, check filter light, etc. You won't find any of these features or modes included with this unit.
Portability (Weight and Size)
The Haier was the lightest and smallest dehumidifier we tested. It weighs only 29 lb. Compare its weight to 34 lb for the 30 pint GE, 31.5 lb for the 30 pint Hisense, and an average weight of about 38 lb for 50 pint units and 44 lb for 70 pint units. One of the few reasons to recommend this unit is its exceptional portability. Its small size and extremely light weight makes this unit a breeze to transport and carry from one location to the next. Not even this recommendation comes without a warning, however. You will have to install the casters on the unit. They are included separately with your purchase. All other dehumidifiers we purchased and tested did not require you to install casters as they came pre-installed.
Value
This is the least expensive dehumidifier that we purchased and tested. You can purchase it any applicable local brick and mortar store for about $160.
Final Thoughts
As we highlight in our 30 pint dehumidifier buyer's guide, we do not recommend this unit as a viable purchase option should you be looking for a smaller capacity dehumidifier. Simply put, other brands just make better quality, more durable and longer lasting dehumidifiers. See our 30 pint guide for our recommendation if you do require a smaller more portable and less expensive unit.