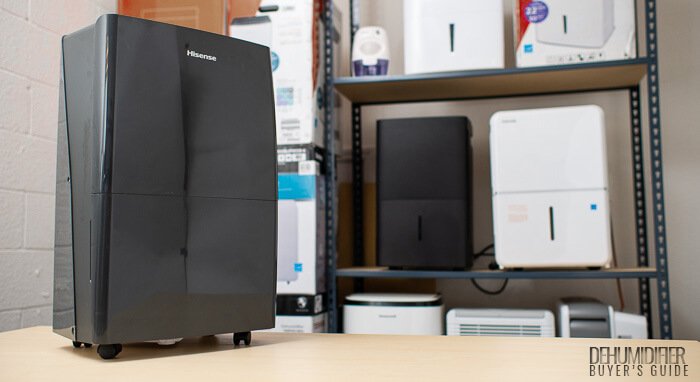 Pros
Large water tank – 16.3 pints
Above average set humidity range and operating temperature range
2 year warranty (1 year is the industry standard)
Cons
Not very energy efficient according to our testing
Especially egregious compressor buzzing noise
Poor performance in our moisture removal tests
Inaccurate built-in hygrometer
Included With Your Purchase
Dehumidifier
Instruction Manual
| | |
| --- | --- |
| Energy Efficiency | 3.0 |
| Noise Output | 2.5 |
| Moisture Removal | 3.0 |
| Hygrometer Accuracy | 3.0 |
| Durability | 3.0 |
| Adjustability | 4.0 |
| Versatility | 4.0 |
| Extra Features | 3.5 |
| Ease of Use | 5.0 |
| Portability | 4.0 |
| Warranty | 5.0 |
| Value | 3.0 |
| Editor's Score | 3.8 |
Score is out of 5 possible points.
Quick Review Summary
The Hisense DH7019K1G used to be a 70 pint dehumidifier – hence the "70" in its model name. However, under current DOE standards for listing dehumidifier capacity it is only a 50 pint dehumidifier. And so we will be comparing it to other 50 pint dehumidifiers throughout this review.
Note that there is no such thing as a "70 pint dehumidifier" under current DOE standards. 50 pint units are the "new" 70 pint units – the largest capacity consumer grade dehumidifiers on the market.
The DH7019K1G performed quite poorly in all of our hands-on performance tests. We discuss its performance in detail in the review that follows.
Performance Test Results
Energy Efficiency
The DH7019K1G was a below average performer in our energy efficiency testing. It drew 597 watts of power in our tests. Compare this result with 570 watts for the top rated FFAD5033W1 (on the right in the photo below) in the same test.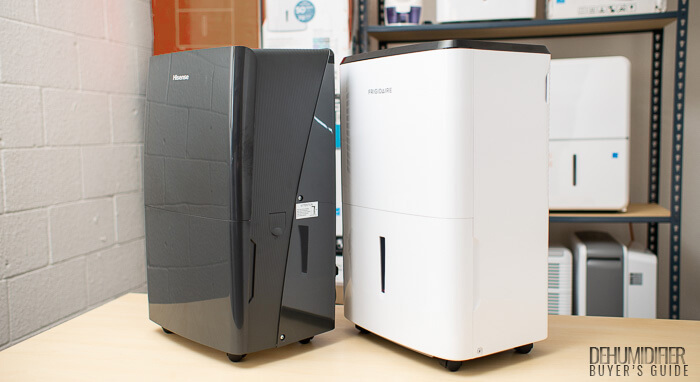 Noise Output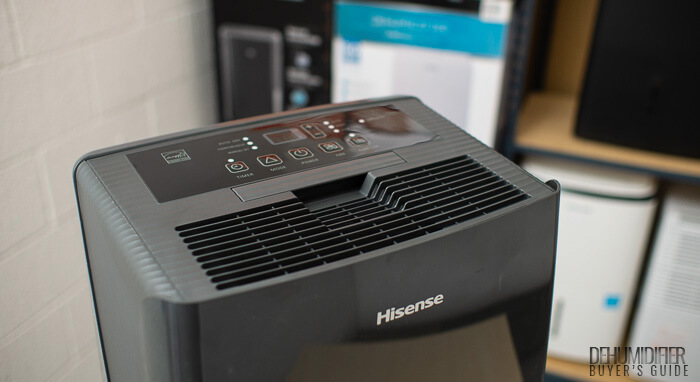 The Hisense DH7019K1G we tested for review had an especially noisy compressor. All of the 50 pint dehumidifiers we tested emitted some type of compressor noise but very few had as loud of a compressor as the Hisense.
This compressor noise is masked somewhat when setting the unit to high fan speed. The Hisense exhausts through the top of the unit which distributes fan noise much better than if it were to exhaust through the side (in which case the fan noise would be more directional).
Fan noise is a much more pleasant noise than compressor noise and so we welcome the unit's high fan noise on high fan speed. It's highly unlikely you will ever want to use this unit (and really most other 50 pint units) on low fan speed due to their noticeable compressor noise on this setting.
We measured the DH7019K1G's raw noise output to be 74.2 dB right next to the unit and 54.4 dB 10 ft. away from it on high fan speed (72.8 dB and 52.4 dB on low fan speed). The average for all the twenty-seven 50 pint units we've tested so far is 67.3 dB and 53.4 dB in the same high fan speed tests (63.7 dB and 50.3 dB on low fan speed).
Thus, the Hisense's noise output is higher than average in all tests.
But again, note that the quality of the noise will be much more important than the raw noise output for most users. With the Hisense, most compressor noise is masked on high fan speed but some of it still filters through. A top rated unit like the FFAD5033W1 makes less compressor noise and is also able to mask all compressor noise.
Moisture Removal
We run two moisture removal rate tests. In the first test, we measure how long it takes the unit to lower room humidity from 90% down to 40% relative humidity (RH) in a 50 sq. ft. space. The Hisense accomplished this task in 12 minutes. This result is thoroughly below average. The top rated Frigidaire accomplished this task in only 7 minutes, 56 seconds. The worst performer was the LG UD501KOG5 which took 14 minutes, 31 seconds.
The second test measures how long it takes the unit to lower room humidity from 80% down to 50% RH. Again, the DH7019K1G's time was below average. It took 6 minutes, 33 seconds in this test. The Frigidaire took only 5 minutes, 19 seconds.
Hygrometer Accuracy
The Hisense has a fairly inaccurate hygrometer. During testing we observed its displayed humidity level to be 1 to 7% more than the actual humidity in the room.
This means that if you were to set this unit to 50% RH it could possibly cycle off as early as 57% RH. The best rated units have much more accurate built-in hygrometers.
Included Features, Functionality, Build Quality, Warranties, and Value
Durability (Build Quality)
General Impressions
Durability for this unit is also below average. Compared to top rated competitors it uses thinner and lower quality plastics. There's a distinctly different lower quality "feel", if you will, handling this unit compared to better built top rated options.
Consumer Feedback
Consumer reviews mostly disagree with our stance here. The unit has thus far received mostly positive feedback from consumers, although many reviews have been written right after purchase – and are thus not indicative of long term reliability. In addition, most consumers cannot make a direct comparison of build quality between different models like we can.
Overall Category Score
The unit's build quality is low enough to warrant a below average 3/5 score in the category, despite its mostly positive consumer reviews.
Adjustability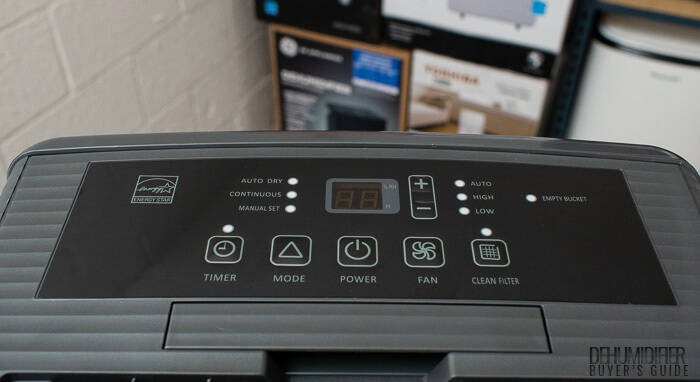 This Hisense dehumidifier features only 2 fan speeds. Certain top rated units feature 3. However, this isn't much of a negative for the Hisense as you'll rarely want to set it on any speed other than high (for the noise output reasons we discussed earlier).
Like most other units on the market, the unit features a timer and a continuous mode.
Unlike most other units on the market, the DH7019K1G also features an auto mode.
Overall Category Score
Although you're highly unlikely to ever use auto mode (continuous mode and manual mode are much better for the vast majority of applications), it's still a positive in the category. The Hisense scores an above average 4/5 for adjustability.
Versatility
Set Humidity Range
The DH7019K1G can be manually set to a desired humidity level ranging from 30% to 80% RH. Most other dehumidifiers offer a similar range although most have a set range that bottoms out at 35% RH.
Such units have to be set to continuous mode to dehumidify beyond 35% RH. On continuous mode they will continually dehumidify all the way down to (theoretically) 0% RH. However, you have to manually turn off continuous mode to have the dehumidifier stop dehumidifying.
With the Hisense, you can set it to 30% RH and have it automatically cycle off when room humidity reaches 30% RH. You will still need to set it to continuous mode to dehumidify beyond 30% RH but its lower set humidity range does offer you the benefit of being able to set it to 5% lower (30% vs 35%) than most other units and cycle off automatically.
Operating Temperature Range
The Hisense has an operating temperature range of 38° F to 90° F. Most other units we tested can only be used in temperatures ranging from 41° F to 89 or 90° F.
Thus, Hisense claims that the DH7019K1G can operate efficiently at temperatures 3° F cooler than most other 50 pint dehumidifiers on the market.
Gravity Drainage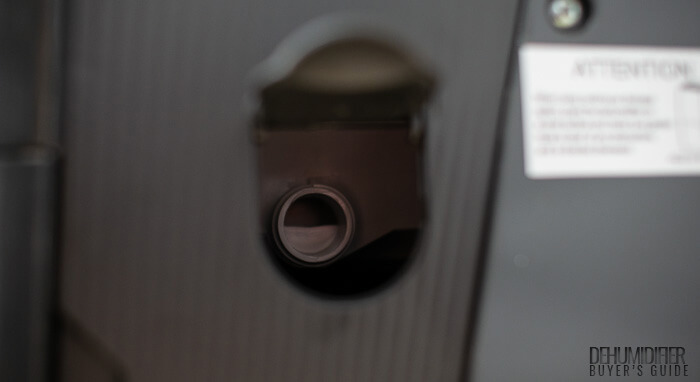 Just like every other 50 pint dehumidifier, the DH7019K1G allows you to drain it using a garden hose instead of using the built-in condensate collection bucket.
Unlike many other units, going about doing so is a little bit more cumbersome with the Hisense.
With the Hisense you have to remove the bucket, reach into the bottom of the unit to connect the hose (after feeding the hose through a side cut-out), and then replace the bucket.
With many other units all you have to do is remove a drain plug on the back and connect the hose.
Built-in Pump
This unit does not offer built-in pump functionality.
Overall Category Score
An above average set humidity range and operating temperature range are positives in the category. The one negative is that it's cumbersome to use gravity drainage. The Hisense earns a 4/5 in the category.
Extra Features
Temperature Reading
Like most modern units (temperature display was a much more popular feature 5 to 10 years ago), this unit does not display room temperature.
Defrost
This unit is equipped with a defrost mode although there is no defrost indicator light to alert you when it's activated.
Check Filter
This unit does feature a check filter light.
Overall Category Score
The unit scores an average 3.5/5 in the category.
Ease of Use
LED Display Clarity
The LED display quality is below average.
Setup Difficulty
The unit's control panel is simple to use.
Filter Removal Difficulty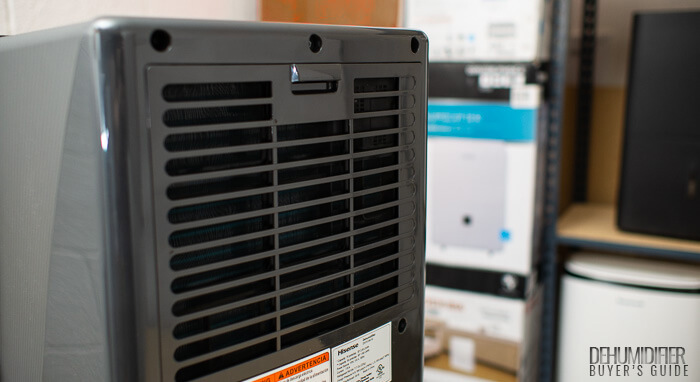 This unit features an intake filter on the back. Unlike most other units, its filter and grille are two separate pieces to allow you to clean the filter more easily.
Manual Clarity
We have no complaints about the included manual.
Water Tank Size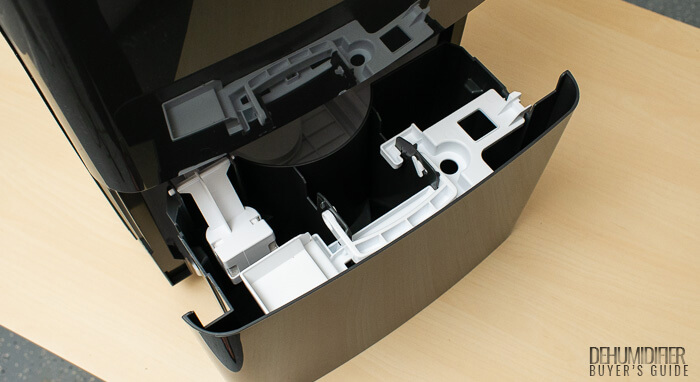 This unit features an above average sized water collection tank. Among the 11 high capacity dehumidifiers we tested recently, only the top rated Frigidaire FFAD5033W1 has a larger bucket. The Hisense bucket holds 16.3 pints of moisture while the Frigidaire's bucket holds 16.9 pints.
There are several units on the market today with a bucket that can only hold 12 to 13 pints of moisture.
Overall Category Score
The Hisense earns a perfect 5/5 in the category.
Portability
At 41.6 lb. this unit weighs slightly less than most other 50 pint units on the market (the average weight is approx. 43 lb.). It also comes with a top extendable handle and cord storage.
Overall Category Score
The Hisense earns an above average 4/5 in the category.
Warranty (Manufacturer's)
The DH7019K1G we bought for review came with a 2 year warranty. The industry standard is a 1 year warranty. This is a very strong positive for this unit.
Value
This unit offers plenty of positives (e.g. its warranty, ease of use, etc.) but these are not enough to offset its poor performance in our hands-on testing. This unit also retails for approx. $270 while many better performing units are priced in the $200 to $220 range. All things considered we do not consider the Hisense to be a good value.
Final Thoughts
Echoing what we just discussed in the section on the unit's value, the DH7019K1G provides plenty of positives. It comes with a good warranty, offers above average versatility (more specifically, set humidity range and temperature), and comes equipped with a large water collection bucket.
However, all of this is offset by its poor performance in our hands-on testing. The unit had a higher tested power draw, was noisier, removed moisture less quickly, and had a less accurate hygrometer than top rated competitors, many of which are priced lower than the Hisense.
All things considered, we do not recommend this unit for most applications.