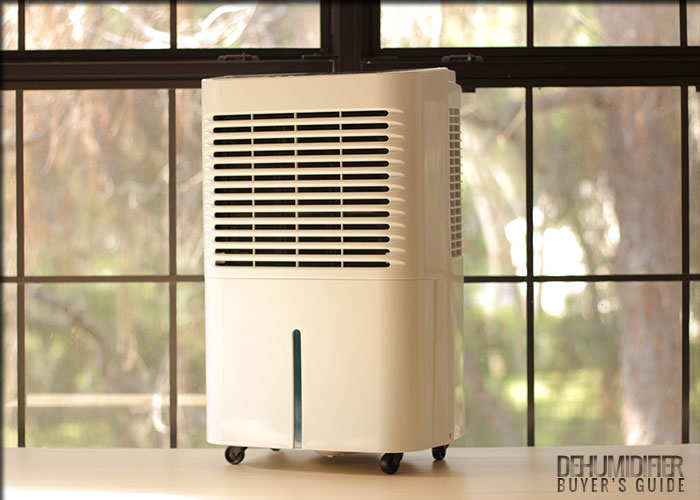 Pros
Unit can be operated in temperatures as low as 38° F (industry standard lower limit is 41° F)
Tied with 3 other units for being most energy efficient in 70 pint size class
Both continuous and auto mode
Top extendable handle and cord storage for improved portability
Cons
Very high rate of negative consumer reviews indicates that unit is not reliable
Low quality LED display
Unit does not operate quietly
Unit does not remove moisture quickly
Reports of manufacturer not honoring warranty
Not a great value at regular retail price
Included With Your Purchase
Dehumidifier
Instruction manual
| | |
| --- | --- |
| Energy Efficiency | 5.0 |
| Noise Output | 2.0 |
| Moisture Removal | 2.0 |
| Hygrometer Accuracy | 3.0 |
| Durability | 3.0 |
| Adjustability | 5.0 |
| Versatility | 4.5 |
| Extra Features | 3.0 |
| Ease of Use | 2.0 |
| Portability | 5.0 |
| Warranty | 2.0 |
| Value | 2.0 |
| Editor's Score | 3.7 |
Score is out of 5 possible points.
Quick Review Summary
The AD70GUSB is a large capacity 70 pint dehumidifier manufactured by Whirlpool (we question this fact later in the review). It performed really well in several categories. We found it to be one of the most portable 70 pint units we tested thanks to its top handle and excellent cord storage. It also rated well in categories such as adjustability, versatility, and energy efficiency. In fact, it was one of the most energy efficient dehumidifiers we tested. Unfortunately, several negative aspects to this unit bring down its overall score by a considerable margin and makes us at the very least hesitate to recommend it to any potential buyer. We cover those negatives in the review below.
Note: In 2014 we reviewed ten different high capacity dehumidifiers. In the last several years we've reviewed many more. This particular review was written in 2014, thus all comparisons within this review were made comparing this dehumidifier to nine other high capacity dehumidifiers and the top rated high capacity dehumidifier at the time, the Frigidaire FAD704DWD. All new reviews compare all of the most recent dehumidifiers we've tested and reference the current top rated dehumidifier. Also note that this dehumidifier, while a 70 pint unit at the time of its release, would be a 50 pint unit by today's pints/day standards.
Performance Test Results
Energy Efficiency
The Whirlpool was one of the most energy efficient 70 pint units we tested. In our real world 50% room humidity test the Whirlpool only drew 590 watts of power. It was in a tie with four other 70 pint units that also drew this same wattage (590 watts) in this test.
The unit is rated by the manufacturer to draw as much as 746 watts. Note that the unit will draw close to this much power in application where the humidity problem is severe (consistent humidity levels as high as 80 or 90%). If, however, your humidity problem is more mild (closer to 60%) then you can expect power draw closer to what we measured in our real world test (590 watts).
Noise Output
The Whirlpool tested slightly below average in our noise output tests. It was one of three side exhaust units we tested. Thus, it had a distinct advantage in our testing as we further discuss here. Of the three side exhaust units we tested it produced the most noise in both the high and low fan control panel test (sound meter was placed slightly above the control panel). It performed even more poorly in the long distance high fan test (sound meter placed 10 feet from the unit) where it again produced the most noise of the three side exhaust units we tested and was even outperformed by a top exhaust unit (the Frigidaire). Its poorest performance came in the long distance low fan test where it came in 6th place out of the ten 70 pint units we tested.
The Whirlpool is definitely not a very quiet dehumidifier. It does produce quite a bit of noise, although this noise can be directed away from you in certain applications (see more info here). We cannot recommend the Whirlpool if noise output is a priority for you.
Moisture Removal
The Whirpool performed very poorly in both our 90-40% moisture removal test and our 80-50% moisture removal test. It placed 9th out of ten 70 pint dehumidifiers that we tested in both categories. It took almost three minutes longer than the top performing Danby to dehumidify a 50 sq ft room from 90% to 40% RH and over two minutes longer to dehumidify the same room from 80% RH to 50% RH.
If you need a space dehumidified quickly we simply cannot recommend the Whirlpool as a viable buying option.
Hygrometer Accuracy
The Whirlpool had one of the least accurate hygrometers of any of the 70 pint units we tested. It was only within 4-6% accurate compared to the actual room humidity. While the Frigidaire performed slightly more poorly, it reads in 5% increments which in itself limits the unit's accuracy. This Whirlpool unit reads in 1% increments which makes its lack of accuracy more disconcerting.
Included Features, Functionality, Build Quality, Warranties, and Value
Durability (Build Quality)
Compressor shake
Yes. (Read more in the corresponding section here)
Brace
The Whirlpool's condensate collection bucket does have a brace, making it very sturdy when carrying the collected condensate from the dehumidifier to the sink/bathtub where you may be emptying the bucket.
Weight
The AD70GUSB is the heaviest 70 pint dehumidifier that does not include a built-in pump of the ten we tested. While this extra weight is to the detriment of the unit's portability we do believe that it indicates that more high quality durable parts were used in the construction of the dehumidifier. Overall, the Whirlpool appeared to be a very well designed and durable unit. The plastic exterior pieces were anything from flimsy – you won't have to worry about parts breaking off or plastic cracking on this unit.
Consumer Feedback
Five of the twenty-five reviews the Whirlpool has received are either 1 or 2 star. That is a 20% negative review rate and certainly implies that the unit is not nearly as durable as our testing and inspection seemed to indicate. As a comparison consider the Frigidaire FAD704DWD which has a negative review rate closer to 10%. Note also, however, that the Frigidaire has close to 1000 reviews while the Whirlpool only has 25. Anyone competent in statistics will tell you that it's difficult to value data with such a low sample size.
Still, as we have mentioned in other reviews, we greatly value customer feedback in determining the durability and longevity of the unit as we only tested our units for 30 days while consumers have the advantage of owning these units over a much longer time period. The high rate of negative consumer reviews for the Whirlpool, even at such a small sample size, is a legitimate cause for concern.
Brand Reputation
Whirlpool is a very well known and respected brand. You probably have at least one Whirlpool appliance in your home already. It should be noted that the unit's manual tells you to call Hisense for customer service. We also noted that the 70 pint Whirlpool unit we tested and the 30 pint Hisense unit we tested were almost completely identical in their design and appearance. It is only reasonable to surmise that Hisense is actually manufacturing these dehumidifiers and the Whirlpool brand name is only used due to its aforementioned reputation in the world of home appliances.
Overall Category Score
We can only give the Whirlpool is 3/5 for durability. Our own observations led us to believe that the unit should last a long time. Consumer reviews imply the opposite, that the unit is not very durable. The fact that Hisense is probably manufacturing these units under the Whirlpool brand name is also cause for concern and detracts from the AD70GUSB's durability rating.
Adjustability
Humidistat
The Whirlpool's humidistat can be adjusted in 5% increments – an industry standard.
Timer
The Whirlpool's timer can be adjusted in half hour increments up to 10 hours and then one hour increments up to 24 hours. Five of the ten 70 pint units we tested have this exact same timer functionality. The Whirpool gets slightly average marks in this subcategory.
Number of Fan Speeds
The Whirlpool features three fan speed options. Most of the 70 pint units we tested (7 of the 10) only have two fan speeds, high and low. The Whirlpool also has these two standard manually selectable fan speeds (high and low) but also features an additional setting – auto fan speed. On this setting the unit will automatically adjust the fan speed " for maximum humidity control". What this means is that the fan will be adjusted automatically (from high to low) according to how close the actual humidity is compared to the desired humidity level. Let's say you set the desired humidity level to 50% and the actual room humidity is 55%. The fan speed will automatically be adjusted to be much lower than say, if the actual room humidity was 80%.
The automatic fan speed option may be useful depending on the application. If you are putting your dehumidifier in a location that is not a high traffic living space (such as a basement, for instance) then automatic fan speed is really not necessary. You can just set the unit to high fan speed and leave it on this setting. If however, you're going to be using your dehumidifier in a living room or family room where you or your family is going to be spending a lot of time then it is definitely a convenient feature, as the unit will automatically lower the fan speed as the actual room humidity approaches the desired humidity level. Why is it a convenient feature? Because you would normally have to check the humidity yourself and then would want to set the unit to a lower fan speed when the actual room humidity level is close to the desired humidity level to lower the noise output of the dehumidifier.
Note that while a lower fan speed will result in less noise output, our tests found that it doesn't really affect the unit's energy efficiency in real world applications. Thus, the automatic fan speed setting has no impact on the unit's energy efficiency.
Extra Modes
The Whirlpool features a continuous mode and an auto mode. On the continuous mode setting the AD70GUSB will operate continuously despite the measured ambient air's relative humidity but you can still adjust fan speed. On the auto setting, fan speed is set automatically and cannot be adjusted. The desired humidity level is set to 50% and also cannot be adjusted.
Continuous mode is definitely a much more useful mode than auto mode. In applications where the humidity problem is severe, continuous mode is very helpful as we discuss here. Again, auto mode will be a convenient feature depending on the application. If you don't want to worry about what the ambient air's humidity should be or what fan speed to set the unit to, just select auto mode. The unit will automatically set the desired humidity level to 50% which is right in the middle of the recommended range for most living spaces (40-60%) and the fan speed will be adjusted automatically for you.
Overall Category Score
The Whirlpool scores very well in this category. While the humidistat and timer adjustability is average, the unit's inclusion of an auto fan setting and auto mode makes it stand out as one of the more adjustable 70 pint units we tested. We give the Whirlpool a perfect 5/5 for adjustability.
Versatility
Set Humidity Range
The Whirlpool allows you to set the desired humidity level to as high as 80% or as low as 30%. While the upper range here is below average (only the Haier DE65EM has a lower upper range at 70%), it is not important. Very rarely will you want to set the desired humidity level even as high as 80%. Many of the units we tested could be set to as high as 85, even 90% but this functionality is mostly useless as we discuss further here.
What's much more important is the fact that the Whirlpool can be set to as low as 30% RH. This is the lowest setting that can be had on a 70 pint unit. Half of the 70 pint units we tested can be set this low and the Whirlpool is one of these units.
Despite the fact that you likely won't want the ambient air's humidity level to be as low as 30%, being able to set the unit to as low as 30% allows you to achieve a humidity level below 40% which is helpful in applications where the humidity problem is continuous and the room's humidity is constantly increasing. We further discuss this idea here.
Operating Temperature
The Whirlpool is rated to be able to operate in temperatures as low as 38° F. This is the lowest manufacturer recommended operating temperature limit of any of the 70 pint units we tested. The next lowest manufacturer recommend operating temperature limit is 41° F (six of the ten units we tested can be operated in temperatures as low as 41° F).
Note that we were not able to test our units at low temperatures. This operating temperature is only a number in the manual and the unit may be very inefficient at this temperature. Still, this low manufacturer rated operating temperate range is notable and we can only assume that the Whirlpool may perform better at low temperatures compared to those units that have a higher recommended operating temperature range.
Gravity Drain
The Whirlpool has a standard attachment for a garden hose on the back of the unit. The molded plastic drain port looks to be sturdy and durable.
Built-in Pump
The Whirlpool does not have a built-in pump.
Overall Category Score
Being able to set the Whirlpool to as low as 30% RH in addition to its exceptionally low operating temperature limit makes this unit one of the more versatile 70 pint dehumidifiers we tested. It features a standard attachment for gravity drainage and no built in pump which slight detracts from its performance in this category. We still give the Whirlpool a well above average 4.5/5 in this category.
Extra Features
Temperature Display
The Whirlpool does not have a separate temperature display. It also does not have a button you can press to display temperature on the same LED display that shows the room humidity like some of the other 70 pint units we tested.
Defrost
The AD70GUSB does feature a defrost mode although no defrost indicator light is present on the unit.
Check Filter Light
This unit does have a check filter light that will turn on after a predetermined number of hours of use.
Overall Category Score
While the Whirlpool does have a check filter light, it's not nearly as helpful a feature as a separate temperature display. The AD70GUSB does feature a defrost mode which is the most weighted subcategory in this section. We therefore give the Whirlpool a well above average 4.5/5 for extra features.
Ease of Use
LED Display Clarity
The Whirlpool had the worst quality LED display of any of the 70 pint units that we tested. The display was very dull and low quality. To put things bluntly, it made the unit feel like it was designed and manufactured in a previous decade.
Setup Difficulty
The display may have been dull and low quality but we still found it easy to input settings. Fan speeds and modes had their own LED lights that would illuminate when setting the dehumidifier to the respective speeds and modes.
Filter Removal Difficulty
This unit has a bottom-slide out filter which is what we consider to be the industry standard. Some units do feature top or side-slide out filters which are easier to work with.
Manual Clarity
The Whirlpool's manual is very clear and comprehensive – above average.
Water Tank Size
Unknown. (see why here)
Overall Category Score
The Whirlpool's LED display really is an eyesore. It immediately makes us feel like the unit was manufactured in the 1990s or even 80s. Setup difficulty is average and so is filter removal difficulty. The unit does come with an above average instruction manual. We give the Whirlpool a well below average 2/5 for ease of use mostly due to its subpar display and control panel.
Aesthetics
The Whirlpool has a very basic yet elegant look to it. The color and finish of the unit is slightly off white. Its finish is not quite glossy but also not matte. The flat blue control panel is not very pleasing aesthetically but works well on a practical level as the buttons are much less likely to show wear and dirt accumulation as some of the lighter colored control panels of the other 70 pint units we tested. We give this unit an average 3.5/5 for aesthetics.
Portability
Weight
The AD70GUSB is a fairly heavy 70 pint dehumidifier weighing exactly 45 lb. Of the ten 70 pint units we tested only the Delonghi (46.3 lb) and the Friedrich (47 lb) weigh more and both of those units include a built-in pump while the Whirlpool does not. This makes the Whirlpool the heaviest 70 pint unit we tested that does not include a built-in pump. Keep in mind that the least heavy 70 pint unit we tested weighs 40 lb (the Keystone) so despite the fact that the Whirlpool is the heaviest 70 pint unit we tested, it's still only 5 lb heavier than the lightest 70 point unit we tested.
Handles
Offsetting its above average weight is its inclusion of a top handle. This handle flips up and can be used to carry the unit up or down stairs or across surfaces like carpet on which it's harder to push the unit on its casters. Strangely, the Whirlpool does not include side pocket handles. As we mention in other reviews, we really prefer a top handle over the side pocket handles that most of the 70 pint units we tested come equipped with. Still, we would have like to see the inclusion of side pocket handles also. If the top handle was ever to break off you would still be able to carry the unit if side pocket handles were also included (as they are with the Frigidaire, for instance).
Cord Storage
The Whirlpool includes extended plastic hooks on the back of the unit around which you can wrap the power cord for storage. The plastic molding on the back of the unit is also recessed so that the hooks and power cord don't protrude away from the unit.
Caster Quality
The Whirlpool's casters are average quality.
Overall Category Score
Despite its weight, the Whirlpool is a very portable dehumidifier. The top handle makes it very easy to carry (and more easy to carry than the majority of other 70 pint units that only have side handles). The included cord storage is a more unique feature of this unit (the Frigidaire is the only other 70 pint unit with this same type of high quality cord storage) that also makes it highly portable. In any scenario where you need to move the unit simply wrap up the power cord on the back of the unit and push or carry it to the next location. The Whirlpool earns a well above average 5/5 in this category.
Warranty (Manufacturer's)
This unit does come with a manufacturer's warranty. However, we did read reports online of consumers whose warranty was not honored by the manufacturer. In one report the manufacturer told the customer that the unit was not sold by an authorized retailer. We find this type of customer service unacceptable. Definitely stay away from this unit if you are at all concerned about it breaking down and/or if you actually plan on using the warranty if it does break down.
Value
The Whirlpool is really not a good value at $250 (approximately). It is more expensive than better rated units. The only real incentive for paying more for this unit is the Whirlpool brand name. Unfortunately, as we mentioned above, the unit is most likely not even made by Whirlpool. Additionally, the warranty on this unit has been reported to not have been honored by the manufacturer.
Final Thoughts – Why We Cannot Recommend This Unit
The Whirlpool is highly portable, very versatile, and comes with certain unique features (auto mode and a low operating temperature, for example) that are hard to find elsewhere. However, it performed poorly in both our noise output and moisture removal tests. It also has a highly inaccurate built-in hygrometer.
The above are all negatives but not deal breakers. We cannot recommend this unit for three reasons. First, it has well below average consumer feedback that indicates that the unit is not very durable. Durability and longevity are very important when it comes to purchasing an appliance such as a dehumidifier, especially if you're purchasing it online. Secondly, reports of the manufacturer not honoring warranties for dubious reasons is simply unacceptable. Third, the unit is overpriced. At a lower price point this unit may be an option for some that are willing to take the risk of the unit breaking down and not being able to have it repaired or replaced under warranty. However, at around $250 we simply cannot recommend this dehumidifier to any potential buyer.