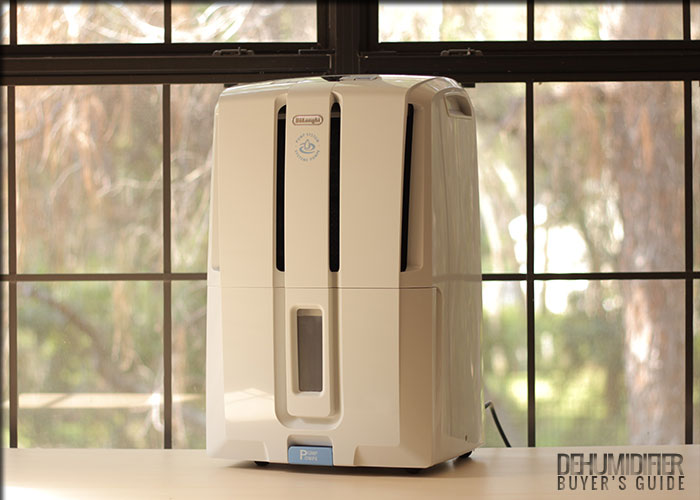 Pros
Very well constructed and of high quality parts and materials
High quality LCD display (vs industry standard LED display)
Most energy efficient 50 pint dehumidifier we tested
Separate temperature display
Defrost mode
Continuous mode
Cons
More limited operating temperature range
Below average performance in our noise output tests
Inputting settings can be difficult
Terrible value – unit is overpriced
Included With Your Purchase
Dehumidifier
Instruction manual
39 in gravity drain hose
16.5 ft pump drain hose
| | |
| --- | --- |
| Energy Efficiency | 5.0 |
| Noise Output | 2.0 |
| Moisture Removal | 3.5 |
| Hygrometer Accuracy | 3.5 |
| Durability | 5.0 |
| Adjustability | 4.0 |
| Versatility | 3.5 |
| Extra Features | 5.0 |
| Ease of Use | 3.0 |
| Portability | 3.0 |
| Warranty | 3.5 |
| Value | 2.0 |
| Editor's Score | 4.1 |
Score is out of 5 possible points.
Quick Review Summary
The Delonghi DD50PE is among three 50 pint units we tested that feature a built-in pump. As was true for the 70 pint built-in pump units we tested, not one 50 pint built-in pump dehumidifier stood out as the definitive option if you're looking to buy a medium capacity dehumidifier equipped with this functionality.
If you're at all interested in the DD50PE we suggest you read the following review in its entirety and also reference our Delonghi 70 pint review which covers certain features and functionality in much greater detail. Our 70 pint review also compares and contrasts the three built-in pump units we tested more thoroughly.
Note: This particular review was written several years ago, thus all comparisons within this review are made comparing this dehumidifier to the other relevant medium capacity dehumidifiers at the time of its release, most of which are now discontinued. Also note that this dehumidifier, while a 50 pint unit at the time of its release, would be a 35 pint unit by today's pints/day standards.
Performance Test Results
Energy Efficiency
The Delonghi performed very well in our energy efficiency test. It was the most energy efficient 50 pint dehumidifier we tested, but not necessarily by a substantial margin. The second most efficient unit, the Danby Premiere, only drew 11 watts more power than the top rated Delonghi.
Compare the Delonghi's measured power draw of 439 watts at 50% relative humidity to 450 watts for the 50 pint Danby and a whopping 655 watts for the 70 pint Delonghi. While this unit's power draw isn't substantially less than its 50 pint competition, you can see that it draws much less power (over 200 watts less) than its 70 pint counterpart. Keep in mind that even though all 50 pint models draw much less power than the 70 pint units we tested, they also take much longer to dehumidify a particular space. Thus you have less energy usage per unit time, but greater power usage per unit of humidity.
Noise Output
The Delonghi 50 pint is slightly quieter than the Delonghi 70 pint. While it's not always true that 50 pint units are quieter than 70 pint units, that is certainly the case here, but only by the narrowest of margins. At 10 ft and on high fan speed, the 50 pint Delonghi's noise output was measured at 53.6 dB while the 70 pint model was measured at 54.8 dB.
The Delonghi 50 pint may be less quiet than its 70 pint counterpart, but it was the least quiet of all the medium capacity dehumidifiers we tested. The margins here are a little bit more substantial but still are not sufficient for us to disqualify the Delonghi as a possible option if you need a dehumidifier that won't produce much noise. Compare the Delonghi's measured 53.6 dB of noise output at 10 ft to the top performing Danby measured at 50.7 dB under the same conditions.
Moisture Removal
The Delonghi placed in third (out of six 50 pint units tested) in both of our moisture removal tests. We give it an average rating for moisture removal rate. Note that the 50 pint Delonghi took almost 5 minutes longer than the 70 pint Delonghi to dehumidify the same space under the same conditions in our 90-40% moisture removal test. Our tests show that the difference in the time it takes to dehumidify even a small space is substantial when comparing the Delonghi 50 and 70 units, as it is when comparing any two equivalent 70 and 50 pint dehumidifiers.
Hygrometer Accuracy
We rate the Delonghi 50 pint's hygrometer as only having average accuracy. It measured the ambient air's relative humidity no worse than within 2 to 3% of the actual room humidity. The 50 pint Delonghi, like its 70 pint counterpart measures humidity in 1% increments.
Durability, Features, And Value
Durability (Consumer Feedback)
The DD50PE hasn't received enough consumer reviews for us to make any inferences regarding its reliability based on those same reviews. What we note here, again, is that this unit is very well constructed and moreover looks to be constructed of very high quality parts, especially when we compare it to units that clearly use thinner, less durable, and cheaper parts.
Feature Summary
The Delonghi features slightly above average adjustability and average versatility. Its humidistat can be adjusted in 5% increments to as low as 30% RH (relative humidity) and as high as 80% RH. A few of the medium capacity units we tested could only be set to 35% RH – the Delonghi's ability to be set to as low as 30% RH gives it above average adjustability. The unit does feature a built-in pump with a drain port on the front of the unit (vs the back of the unit for other built-in pump dehumidifiers we tested). It only received an average score for versatility, however, because this unit has a more limited operating temperature range than its competition. Delonghi recommends that this unit not be operated in temperatures exceeding 89.6° F, which is at least 5° F less than all other 50 pint units we tested.
Both the 50 and 70 pint Delonghi units are the most expensive offerings in their respective size classes but are also the most well built and professionally designed dehumidifiers we tested. Both units are also feature rich and come equipped with much more professional looking LCD control panel displays (compared to the LED displays found on all other units). The Delonghi has a separate temperature display and also features a defrost mode for low temperature operation. We do note here that this unit may be a little more difficult to use than some of the other medium capacity units we tested. We discuss this issue in much greater detail in our 70 pint Delonghi review.
Portability (Weight)
The Delonghi DD50PE weighs 40.1 lb. It was the heaviest 50 pint dehumidifier we tested. Compare its weight of 40.1 lb to 37 lb for the lightest 50 pint unit we tested (the Frigidaire) and the 46.3 lb weight of the 70 pint Delonghi DD70PE. The DD50PE's shipping weight (box, packing materials, and hoses included) is 43.3 lb.
The 50 pint Delonghi DD50PE is almost just as big and heavy as the 70 pint DD70PE. We wouldn't recommend either unit if you require a portable dehumidifier. Much better options are available such as the Frigidaire 50 pint and 70 pint units, for example.
Value
The DD50PE is the most expensive 50 pint dehumidifier we tested. This is partly because it comes equipped with a built-in pump. However, it is still more expensive than the other built-in pump 50 pint units we tested (the Friedrich and SPT) and by a substantial margin. Compare the Delonghi's street price of about $310 to $255 for the 50 pint Friedrich and about $240 for the 50 pint SPT built-in pump unit. The Delonghi is more than $100 more expensive than our highest rated 50 pint dehumidifier, the Frigidaire FAD504DWD.
Final Thoughts
Due to its excessive price we find it hard to recommend this Delonghi unit as a viable buying option if you're looking to buy a 50 pint dehumidifier. Still, the DD50PE does have some unique features that may warrant its higher price to some. We discuss why you might want to consider a Delonghi unit in much greater detail in our DD70PE review.