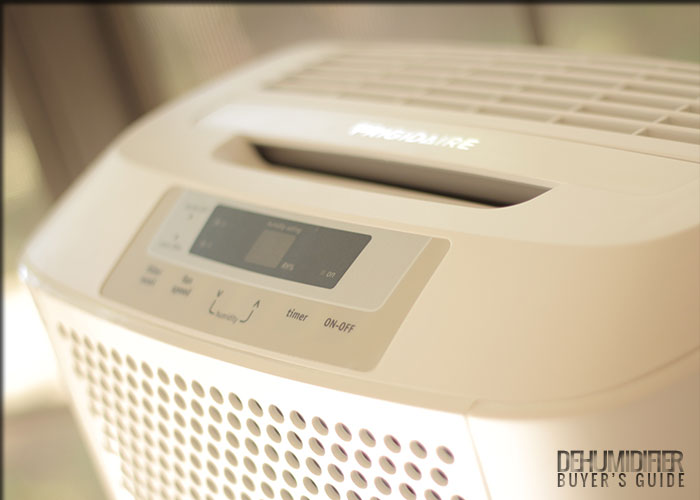 Pros
Received the highest % of positive consumer reviews of all the 50 pint dehumidifier we tested
Consumer reviews in addition to our own observations indicate that this unit is highly durable and very reliable
Unit is very quiet even on high fan speed
Unit is light and comes equipped with a top extendable handle and cord storage for superior portability
Most inexpensive 50 pint dehumidifier we tested – a great value
Cons
No defrost mode
Below average moisture removal rate and hygrometer accuracy
Included With Your Purchase
Dehumidifier
Instruction manual
| | |
| --- | --- |
| Energy Efficiency | 3.5 |
| Noise Output | 4.5 |
| Moisture Removal | 3.0 |
| Hygrometer Accuracy | 3.5 |
| Durability | 5.0 |
| Adjustability | 4.0 |
| Versatility | 5.0 |
| Extra Features | 3.0 |
| Ease of Use | 4.5 |
| Portability | 4.5 |
| Warranty | 3.5 |
| Value | 5.0 |
| Editor's Score | 4.6 |
Score is out of 5 possible points.
Quick Review Summary
The Frigidaire FAD504DWD is one of two 50 pint dehumidifiers we recommend in the 50 pint size class. This unit has received a higher rate of positive consumer reviews than any other dehumidifier we tested. Consumers absolutely love this dehumidifier. Read its consumer reviews and you'll find one review after the next praising this dehumidifier's features , performance, and reliability. Speaking of which, if you're looking for a reliable medium capacity dehumidifier, the Frigidaire FAD504DWD is definitely your best option in the 50 pint size class. We observed this unit to be well built and constructed of very high quality parts. Consumer reviews clearly support our own observations as the overwhelmingly high rate of positive reviews this unit has received indicate that very few consumers have reported defective or broken units even over the course of several weeks, months, and years of use.
In addition to its outstanding consumer feedback, the other selling point for this unit is price. The FAD504DWD is the most inexpensive 50 pint dehumidifier we tested. It is also one of, if not the most inexpensive 50 pint dehumidifier currently on the market. Not only are you getting a super reliable medium capacity dehumidifier packed with the same great features and equipped with the same superior functionality as its highly rated 70 pint counterpart (the Frigidaire 704DWD), but you're getting it at a very competitive price point to boot. This unit is a great value and comes highly recommended, retailing for a street price under $200 (approx.).
Note: Before we continue with our full review below we need to make it clear that Frigidaire's 50 and 70 pint units are nearly identical. They have all of the same features and even come equipped with the same control panel. The 50 pint unit is almost exactly the same size as the 70 pint unit (they also come with the same manual and packaging). Since these two models are essentially the same as far as included features and functionality is concerned, we'll only briefly cover the 50 pint's included features in this review. We discuss these same features and the unit's functionality at length in our 70 pint Frigidaire review. We'll also tell you why any particular feature is helpful, and how its inclusion and implementation compares to the competition in our 70 pint review. We suggest you read that review first, skip how the 70 pint fared in our real world tests, and then come back to this review to see how the 50 pint did in the same tests. We'll also discuss any differences between the 70 and 50 pint models in this review.
Note: This particular review was written several years ago, thus all comparisons within this review are made comparing this dehumidifier to the other relevant medium capacity dehumidifiers at the time of its release, most of which are now discontinued. Also note that this dehumidifier, while a 50 pint unit at the time of its release, would be a 35 pint unit by today's pints/day standards.
Performance Test Results
Energy Efficiency
The Frigidaire wasn't the most energy efficient 50 pint unit we tested, but not by a large margin. We measured it to draw 462 watts of power at 50% relative humidity. The best performing unit (the Delonghi) only drew 439 watts of power under the same conditions.
This unit's power draw of 462 watts is substantially less than the 70 pint model's power draw of 632 watts under the same conditions. See our general buyer's guide for our discussion as to why this does not make the 50 pint model any more energy efficient .
Noise Output
The Frigidaire was one of the most quiet medium capacity units we tested. It placed above average or average in all four noise output tests. Interestingly, it wasn't as quiet as the 70 pint model. The 50 pint model was measured as 51.7 dB on high fan speed at 10 ft while the 70 pint model was measured at 50.2 db on the same fan speed and at the same distance. If noise output is a primary concern of yours, don't be fooled into thinking that smaller capacity units produce less noise. This is simply not the case, as is demonstrated here.
Moisture Removal
The FAD504DWD placed last in both moisture removal tests. If you require a unit that will remove moisture as quickly as possible we do not recommend this unit. We also would not recommend a 50 pint unit in general if this is the case for you. Instead, we would strongly advise you to take a look at both the Danby Premiere and ArcticAire 70 pint units. Both performed outstandingly in our moisture removal tests and will do a much better job at removing moisture quickly than any of the 50 pint units we tested.
Hygrometer Accuracy
This unit's hygrometer wasn't very accurate. It measured the ambient air's relative humidity only to within 5% of the actual room humidity. Of course, we can't expect it to be much more accurate since this particular model only measures humidity in 5% increments. Still, we would have liked to see the unit be able to measure 55% at an actual RH of 53%, or something similar. Instead, it would read 60% or 45% in this scenario.
Durability, Features, And Value
Durability (Consumer Feedback)
By far this unit's strongest category – the Frigidaire 50 pint has received an overwhelmingly high percentage of positive reviews from consumers. It has received only about 50 total 1 and 2 star reviews out of over 800 total reviews dating back as far as January 2013.
The Frigidaire 50 pint is the best reviewed dehumidifier of all the dehumidifiers we tested. Not one small, medium, or large capacity unit currently on the market has received a higher percentage of positive reviews with such a large sample size.
Feature Summary
If you don't want to read our 70 pint Frigidaire review, here's a short summary of this unit's features. The FAD504DWD features above average adjustability and versatility. The desired humidity level on this unit can be set in 5% increments up to 85% RH (relative humidity) and to as low as 35% RH. The timer (for a delayed start or a delayed stop) can be set in half hour increments up to 10 hours and one hour increments past 10 hours up to 24 hours. Operating temperature range on this unit is 41° F to 96° F. This unit features a continuous mode but not an auto mode. The unit has a standard gravity drain port on the back of the unit. No gravity drain hose is included.
This unit also rates above average for ease of use despite its disappointing LED display (read more in our 70 pint review). The Frigidaire rated below average for extra features because it doesn't include a defrost mode.
Portability (Weight)
The Frigidaire 50 pint was one of the lightest medium capacity units we tested. Compare its weight at 37 lb. to the weight of the 70 pint Frigidaire at 46 lb – an unusually large difference between the medium and large capacity units. All other things being equal, the 50 pint model might be the better option if you need a highly portable dehumidifier, if only because it weighs much less than the 70 pint model.
Value
The Frigidaire is also the most inexpensive 50 pint dehumidifier we tested. It can be found online for about $195. The next least expensive 50 pint unit is the Danby at about $210. Compare the FAD504DWD's price at about $195 to a street price of about $225 for the 70 pint model.
Final Thoughts
The Frigidaire is a great value and we recommend it as one of the better options available if you're looking to purchase a 50 pint dehumidifier. It's very portable (compared to the 70 pint model and to its 50 pint competition), has all the features you would want in a medium capacity unit, and is also fairly quiet should you need to use this unit in a part of your home where you or your family will be spending a lot of time (such as a living room or bedroom).
The principal reason why we recommend this unit, however, is because it has received such outstanding consumer reviews. Yes, it performed reasonably well in all of our real world tests and stacks up well against the competition as far as features are concerned, but the fact that hundreds of consumers have bought this unit, have actually used it for several months, even years (we only tested these units for 30 days) and still have left overwhelmingly positive reviews suggests that the Frigidaire is one of the most durable and reliable dehumidifiers on the market. It receives our highest recommendation.