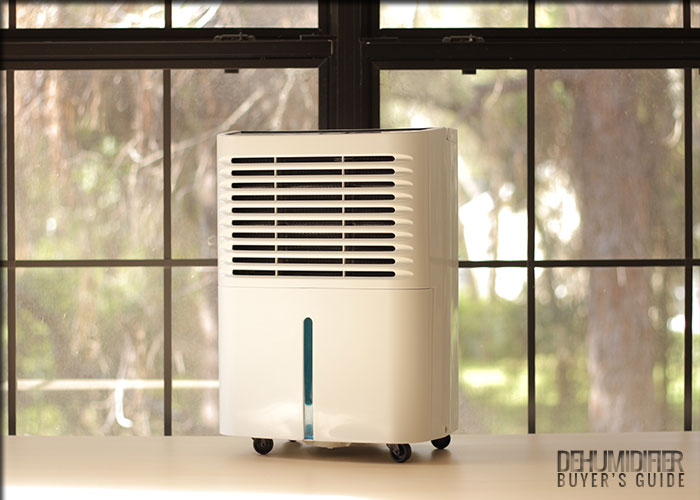 Pros
Most energy efficient 30 pint dehumidifier we tested
Removed moisture faster than the other two 30 pint units we tested
Continuous and auto mode
Defrost mode for low temperature operation
Top handle and cord storage for superior portability
Cons
LED display is very low quality
Unit did not perform well in our noise output tests
Included With Your Purchase
Dehumidifier
Instruction manual
| | |
| --- | --- |
| Energy Efficiency | 5.0 |
| Noise Output | 3.0 |
| Moisture Removal | 4.5 |
| Hygrometer Accuracy | 3.5 |
| Durability | 3.5 |
| Adjustability | 5.0 |
| Versatility | 4.5 |
| Extra Features | 4.0 |
| Ease of Use | 2.0 |
| Portability | 5.0 |
| Warranty | 3.5 |
| Value | 3.5 |
| Editor's Score | 4.2 |
Score is out of 5 possible points.
Quick Review Summary
The DH-35K1SJE5 is a highly portable, highly versatile 35 pint dehumidifier manufactured by Hisense. This unit looks identical, has identical parts, and has the same features and functionality as the Whirlpool AD70GUSB. It is only smaller and lighter weight. We cover all of the Whirlpool's features and functionality in detail in its own review. For this reason, we advise you to at least skim through our Whirlpool review in addition to reading through the review below should you be interested in purchasing this particular Hisense dehumidifier. We do summarize the Hisense's features in its own review below. Our focus, however, is on the unit's performance in each of our real world performance tests. We cover the Hisense's performance in these tests in detail below.
Note: This particular review was written several years ago, thus all comparisons within this review are made comparing this dehumidifier to the other relevant low capacity dehumidifiers at the time of its release, most of which are now discontinued. Also note that this dehumidifier, while a 35 pint unit at the time of its release, would be a sub-25 pint unit by today's pints/day standards.
Performance Test Results
Energy Efficiency
This Hisense unit drew 352 watts of power at 50% relative humidity in our energy efficiency test. At the same relative humidity, the GE 30 pint unit drew 356 watts of power and the Haier pulled 404 watts of power. Compare these numbers to an average power draw of 450 watts for the 50 pint units we tested and 600 watts for the large capacity 70 pint units we tested and reviewed. Note that since the Hisense, like other 30 pint units, is rated to remove much less moisture over the same period of time it will take longer to dehumidify the same space at the same initial humidity level using any 30 pint unit than it would using a 50 or 70 pint unit.
Noise Output
The DH-35K1SJE5 was the loudest 30 pint dehumidifier we tested. In fact, only the ArcticAire ADR70A2G was louder on high fan speed and at a distance of 10 ft than this Hisense unit. All other 30, 50, and 70 pint units produced less noise than the Hisense. Compare this unit's reading of 58.2 dB at the aforementioned conditions to 49.9 dB for the quietest 70 pint (the Keystone) and 50.7 dB for the quietest 50 pint (the Danby). The margin in noise output is substantial.
We do not recommend this unit if you need a quiet dehumidifier for a space that you'll be sleeping in or any highly trafficked area in your home where noise output might be a concern for you. Instead, consider a 50 pint unit that won't cost much more and be a an all-around better choice, even outside of the scope of noise output.
Moisture Removal
The Hisense was the top performing 30 pint dehumidifier in both moisture removal tests. Note that it still took this unit over 10 minutes longer to dehumidify the same small test environment than the top performing 50 pint (the ArcticAire) in our 90-40% test.
We note here that the Hisense was outstanding in dehumidifying down to 50% relative humidity. It was almost as fast as the worst performing 50 pint (which is still impressive) and greatly outperformed the next fastest 30 pint unit in our 80-50% test. Should you require only a moderate level of humidity (50%), the Hisense is certainly a viable option.
Hygrometer Accuracy
This unit's hygrometer has what we classify as average accuracy. It read humidity levels to within 2-3% of the actual room humidity. This is quite acceptable for most applications.
Durability, Features, And Value
Durability (Consumer Feedback)
This unit has received only 4 customer reviews so far, none of which are 1 or 2 star. Still, the small sample size of consumer reviews doesn't allow us to draw any reasonable conclusions as to the longevity and general reliability of the unit. Please see our Whirlpool review for our own observations regarding the unit's build quality and how long we feel the unit should last based on these observations. As we've mentioned before, the Hisense and the Whirlpool are essentially exactly the same dehumidifier and the same applies to its construction and build.
Feature Summary
The Hisense DH-35K1SJE5 shares the same control panel as the Whirlpool AD70GUSB and thus comes equipped with many of the same features and functionality. Like the Whirlpool, its humidistat is adjustable in 5% increments up to 80% and down to 30% relative humidity. Its timer (for a delayed start or a delayed stop) can be set in half hour increments up to 10 hours and 1 hour increments past 10 hours up to 24 hours. The Hisense also features 2 fan speeds and an auto fan speed setting which automatically adjust the unit's fan speed according to the relative humidity of the ambient air compared to that of the desired humidity level. A large discrepancy will result in a higher fan speed while a smaller difference between actual and desired humidity will result in a lower fan speed should you set the unit to this auto setting.
This leads us into our discussion of the unit's three mode settings. The auto dry setting sets the dehumidifier to auto fan speed and a desired humidity of 50%. The continuous setting allows you to adjust the fan speed but the desired humidity cannot be adjusted. On this setting the dehumidifier will run indefinitely at the selected fan speed, regardless of the relative humidity of the ambient air. It will dehumidify continuously until you manually turn off the dehumidifier. Finally, the manual setting will allow for complete user control. You can control the fan speed manually, setting it to either low or high as desired. On this setting you can also control the desired humidity level.
This unit has industry standard drainage functionality. Instead of having the collected condensate collect in the unit's water tank you can drain it via an external drain port on the back of the unit. Simply remove the drain port cap and connect a drain hose (a standard garden hose will work fine) to utilize gravity drainage.
As we mentioned above, this Hisense unit has the same control panel as the 70 pint Whirlpool unit we tested and thus it should come as no surprise that this unit also does not include a separate temperature display. Its display only shows the ambient air's relative humidity and the set humidity and timer settings. The unit does come equipped with a check filter light and more importantly features a very helpful defrost mode.
Portability (Weight and Size)
Because of its smaller capacity this unit is also smaller and lighter than most 50 and 70 pint units on the market. It weighs in at 31.5 lb which is about 5 lb lighter than the lightest 50 pint we tested and almost 10 lb lighter than the lightest 70 pint unit we tested. Of course, this unit also has smaller dimensions than these larger capacity units and is thus easier to pick up and carry around should you need to move it from one location to another. Further improving its portability is its top handle (vs side pocket handles) and the hooks on the back of the unit for easy cord storage.
Value
This particular model retails for about $170 online. Should you buy it at a local brick and mortar store it will probably be a little bit more expensive. We can still compare online pricing – the Hisense is about $25 cheaper than the least expensive 50 pint dehumidifier we tested (the Frigidaire).
Final Thoughts
Please see our general 30 pint dehumidifier buyer's guide for our recommendations regarding each 30 pint dehumidifier we tested.